Man who stabbed his best friend to death is jailed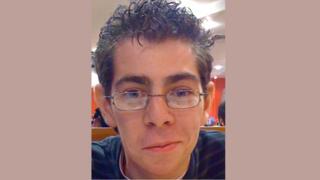 A murderer who joked to police after brutally stabbing his best friend to death has been jailed for life.
Gary Smith, 24, of Larkhall, in Lanarkshire, admitted murdering Joseph McMenemy in November 2016, and was ordered to serve a minimum of 20 years.
The High Court in Edinburgh heard the 27-year-old was repeatedly stabbed at his home in Hamilton, Lanarkshire.
Officers who arrived at the scene, were told in jest by Smith that he had chopped up a body.
Judge Tom Hughes QC told Smith that it was "a tragedy" that the hospitality agency worker had died at the age of 27.
"He had a promising future to look forward to," he said.
"You have caused extreme distress to his friends and family."
Groans heard
The court heard that Smith inflicted at least 10 stab wounds to Mr McMenemy's neck, damaging jugular veins and carotid arteries resulting in massive blood loss.
He also stabbed his victim four times to the chest and shoulders and wounded his face.
Mr McMenemy was also found to have defensive injuries to his arms and hands.
Smith had been earlier seen buying alcohol with Mr McMenemy.
The victim's neighbours later heard males arguing and the sound of groans coming from the property before it went quiet.
Smith later went to a neighbour's home just before midnight and said: "Joe needs help." The neighbour made a 999 call to police.
Smith also made a phone call to the emergency services, claiming he and the deceased had been attacked.
The court heard that when police arrived at the flat, Smith appeared relaxed and was speaking coherently.
When officers asked to get into the property he told them: "No, it's okay." When they asked if anyone else was there he replied: "Just ma pal."
When police entered the flat they saw a small knife with red staining on the blade in the hall. They then found Mr McMenemy wounded and showing no signs of life.
Smith was asked who the injured man was and said: "It's my mate Joe. He's my best pal. He's practically family."
He claimed that intruders had burst in and held him down and alleged it was over a drug debt, adding: "It was all my fault. Joe didn't even know them."
While he was on a landing Smith had motioned to bin bags and said: "I've chopped up a body and put it in that bag." When an officer went to investigate he said: "I'm only joking."
Defence counsel Tony Graham QC said Smith had never given him any instruction as to why the offence was committed.
The judge said Smith would not automatically be freed at the end of the 20 year minimum term but it would be for the Parole Board to determine when it is safe to release him from prison.