Lottery funding confirmed for Glasgow's Burrell revamp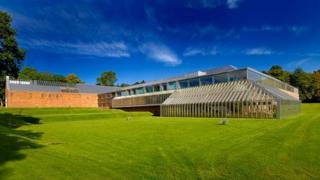 The National Lottery has now confirmed £15m for Glasgow's Burrell Collection refurbishment, having first earmarked the funding in April 2015.
The museum in Pollok Park closed last October to undergo extensive repairs and structural changes.
Glasgow City Council has pledged up to 50% of the £66m total cost, and the UK government has contributed £5m.
A public fundraising campaign has also seen more than 100 different supporters pledge income for the revamp.
The building houses a collection of art and antiquities collected by the late industrialist William Burrell.
The collection, donated to the city in 1944, is regarded as one of the greatest, single personal collections in the world.
The building opened in 1983, and was designed by John Meunier, Barry Gasson and Brit Andresen.
Mr Meunier has raised concern over the redesign and the impact on its status as "one of Scotland's best 20th Century works of architecture".
The revamp will open up all three floors of the building and provide more spaces to display the collection of almost 9,000 objects.
The refurbishment will aim to transform it from a building with a large carbon footprint to a more energy-efficient museum.
Glasgow Life chairman, Cllr David McDonald, said the Heritage Lottery Fund (HLF) had played a vital role in the city's cultural life for almost two decades.
He said: "With HLF's support and commitment, the Burrell Collection is once again a catalyst for change, driving regeneration of the historic and cultural heritage of Pollok Country Park, greatly enhancing the wider cultural offer southside of Glasgow."
Deputy chairwoman of HLF, Seona Reid, said: "The Burrell Collection was one of the greatest gifts ever given to a city and the seed that helped Glasgow grow into the thriving cultural centre it is today.
"It is timely then that in a year when we are celebrating Scotland's History, Heritage and Archaeology, we are able to support such an important collection."
The museum is due to reopen in 2020 after the multi-million-pound redevelopment is complete.