PhD study into Celtic founder Brother Walfrid launched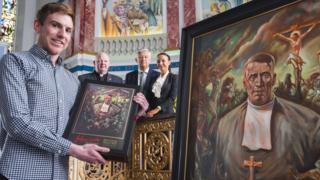 Celtic founder Brother Walfrid is to be the subject of a detailed research project to raise awareness of his work to tackle poverty.
Academics say his links with Celtic are well established but the story of Brother Walfrid - real name Andrew Kerins - remains "largely obscure".
Walfrid founded the football club in 1887 to help alleviate poverty among Irish immigrants in Glasgow's east end.
The PhD study into the Marist Brother is based at the University of Stirling.
Postgraduate student Michael Connolly will carry out the research, which has been funded by a £25,000 grant from Glasgow-based arts group Nine Muses.
The 27-year-old said: "As someone who was brought up with a deep awareness regarding the significance of Celtic's presence in Scotland, I felt inspired to write a dissertation for my history degree at university on the origins of the club.
"It was then I began to understand the importance of Brother Walfrid - not just to Celtic, but to the wider Irish immigrant population he sought to support by creating the football club in Glasgow.
"The works of academic authorities such as Dr Joe Bradley and Professor Sir Tom Devine helped fuel my interest in the themes of immigration, Irish identity, poverty, charity and community, which of course motivated Walfrid to found Celtic."
'Poverty-ridden'
PhD supervisor Dr Joe Bradley added: "It aims to substantiate the partial image we currently have of Walfrid and, indeed, of the circumstances that provided the conditions for the emergence of Celtic Football Club: a unique representation of the Irish diaspora in world sport."
A number of pieces of art have been created of Brother Walfrid with the support of Nine Muses, which said the research project was part of a larger awareness campaign.
Manager Emma O'Neil said: "Over 25 years, Andrew Kerins was a pivotal figure in helping poverty-ridden, demoralised and desperate immigrants displaced from Ireland to Glasgow because of the Great Famine, a terrible period in European history.
"Walfrid helped give them food, hope, and, through Celtic, pride, and we want to raise awareness of his life and works."