Athletes compete in Great Scottish Run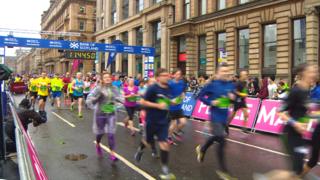 Thousands of people have taken part in the Great Scottish Run around central Glasgow.
Christopher Thompson, from Surrey, was first over the line on the half-marathon course, beating Scotland's Callum Hawkins by just 34 seconds.
The first female finisher was Kenyan athlete Flomena Cheyech Daniel with a time of 70.17.
Earlier, the first female finisher in the elite wheelchair race was Scottish World Champion Sam Kinghorn.
Hawkins won the half-marathon last year, but his record-breaking time was invalidated after the route was found to be too short.
He was hoping to defend his title this year, but could not close a gap opened by Thompson early in the race.
Thompson finished in 62.44 with Hawkins crossing the line at 63.18 - just ahead of Tsegai Tewelde who was third.
Charlotte Purdue was the second woman to finish in 72.18. The first Scottish woman to finish - and the third woman to cross the line - was Fionnuala Ross with a time of 74.26.
A 10km race was also held on Sunday morning, with Stuart Gibson first across the line in 31:37. Rebecca Murray was the first female finisher with a time of 34:30.
Other events for families and children were held in George Square on Saturday.