Travel warning ahead of Great Scottish Run in Glasgow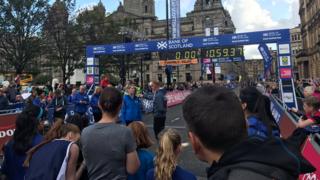 Drivers are being warned of travel disruption as more than 30,000 people take to the streets of Glasgow for the Great Scottish Run.
Elite athletes including Callum Hawkins and Jo Pavey will be among runners taking part in the main event on Sunday.
There were also races for families and children held in George Square on Saturday.
There will be a series of road closures in Glasgow city centre on both days.
Traffic Scotland warned that the A814, M8, M77 and M74, as well as local roads around the city centre, may be busier than usual.
Rail services around Glasgow will also be disrupted, with replacement buses operating on some services.
The 10k and half-marathon take place on Sunday, with thousands of runners setting off from the starting line at George Square.
Callum Hawkins won the half-marathon last year but his record-breaking time was invalidated after the route was found to be too short.
However, he will return to defend his title in his home city.
"It's my home city, the crowds are always big," he said. "They know how to put on a sporting event.
"Sport in Scotland and Britain is on the up and up and everyone gets behind it. You will see on Sunday, the crowds - it's going to be great."
Scottish World Champion wheelchair racer Sammi Kinghorn is also set to take part this year.
The athlete said: "I always really enjoy it here. There's always a different feeling when you're racing in Scotland.
"Sport always means that little bit more when you're home."
A 100m toddler dash, a 2.5km junior run and a "family mile" were among the events that took place for younger competitors on Saturday.