Woman injured in street robbery in Ayr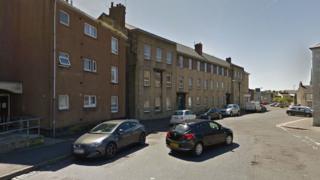 A 43-year-old woman has been treated in hospital after being injured by a man who robbed her in the street.
Police said the man "violently grabbed" her bag, causing her to fall and hurt her foot.
The incident happened in Ayr as the woman walked in George Street, towards Content Street, at 21:20 on Wednesday.
The attacker is described as white, aged in his late 20s or early 30s with a slim build, fit physique and was wearing dark jeans and tracksuit top.
''Hanging around'
Det Sgt Jane Hogg said: "This was a very traumatic experience for this woman who had to be treated in hospital for a foot injury after she was knocked to the ground.
"It is vital that we catch the person responsible before he strikes again and as such I appeal to anyone who either witnessed the incident or who was in the vicinity of George Street, Ayr around 2130 hrs on Wednesday 27 September and may have seen him hanging around the area either prior to the robbery taken place or running off afterwards to contact police immediately."