Paisley's £45.7m town centre improvement funds unveiled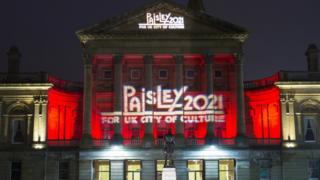 A £45.7m town centre investment package for Paisley has been confirmed by Renfrewshire Council.
The funding is for improvements to Paisley Town Hall, public transport, public spaces, and upgrades to four venues for hosting events.
The announcement comes as the council prepares to submit its UK City of Culture 2021 bid on Friday.
Council leader Iain Nicolson said the investment would ensure Paisley was equipped to host the title.
He said it would also support the council's wider vision to use a "unique and internationally-significant heritage" to transform the area's future.
"Paisley has massive potential as a visitor destination and is already making a name for itself as an event venue," he said.
"Improving the physical and travel infrastructure of the town centre makes it easier for people to get here, and a more attractive place to spend time."
A meeting of Renfrewshire Council agreed to set aside funds for the following projects:
£22m for the modernisation of Paisley Town Hall
£10m to improve town centre transport and public spaces
£7.7m to redevelop St James playing field and upgrade Ferguslie Park Sports Centre
£3.5m to turn the disused Galbraiths warehouse into a arts venue *only to be allocated if Paisley wins the 2021 title
£2.5m for a revamp of Paisley Arts Centre
Coventry, Stoke, Sunderland, and Swansea are also on the UK City of Culture 2021 shortlist.
Bids are to be submitted to the UK government's Department of Digital, Culture, Media and Sport, with a decision due in December.