Paisley museum revamp secures lottery funding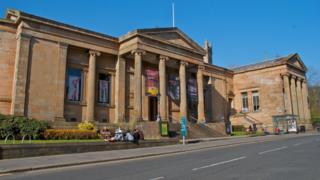 A project to turn Paisley Museum into a world-class attraction has been earmarked for a £4.9m National Lottery grant.
Renfrewshire Council has already set aside £24.1m towards the £42m revamp.
The new museum will aim to retell stories of Paisley's heritage and connect them with the globally-recognised Paisley Pattern.
It is hoped it will open in 2022 and attract 125,000 visits a year - almost four times the current numbers.
Forecasts suggest it could create a £72m economic boost over 30 years.
Plans include an extension to the current Victorian-era building, improvements to all four museum buildings, changes to access, and an internal redesign.
'Ideal timing'
While the new museum is not expected to open until 2022, it is hoped the project can play a part in Paisley's bid to be UK City of Culture 2021.
Renfrewshire Council leader Iain Nicolson said the news "couldn't have come at a better time" with the Paisley 2021 bid being lodged this week.
He said: "The town has some amazing items in its collection - but the current building needs revamped in order to get them out on display and to fully tell the story of how this town was once at the centre of a global industry.
"These projects are all part of a wider vision with the UK City of Culture bid at its heart.
"Should we be announced at the winner of that title in December, it will take the work we are doing to a totally new level."
The £4.9m funding will be confirmed once a successful stage two application is lodged with the Heritage Lottery Fund (HLF).
Seona Reid, deputy chairwoman of HLF, said: "I know how much this project means to Paisley and its people.
"It's vital to the great strides that are being made in revitalising the town, using its history and industrial heritage as the building blocks."