Train badly damaged by railway vandals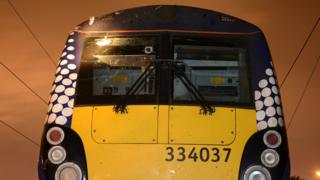 A disaster was "narrowly avoided" after vandals damaged overhead cables on a railway line in Glasgow, British Transport Police (BTP) have warned.
High-voltage power lines are thought to have been hit by objects thrown from a bridge over the line between Easterhouse and Coatbridge on Saturday.
The cables hit a passing train, shattering a cab window and resulting in delays for several hours.
BTP said it was "incredible" no-one was killed or injured.
Det Con Victoria Graham said: "A disaster was narrowly avoided and we are now actively tracing those responsible."
She added: "This would have come as quite a shock to those passengers who were on board the section, some of which were young children.
"It is absolutely imperative that we trace those responsible and I would be keen to hear from anyone who was in the area at the time."
The incident happened at about 17:50 close to Netherhouse Road on the outskirts of Glasgow.
The train had to be taken out of service for repairs and the passengers were transferred to another train.