OAP reunited with first pay packet after 62 years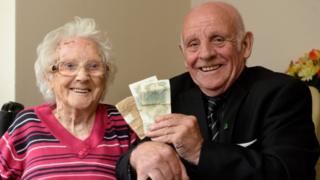 A pensioner has been reunited with his first pay packet - and the money inside it - 62 years after handing it over to his mother for safekeeping.
Michael Doherty, 77, made the discovery while clearing his mother's house out after she moved into a care home.
Mr Doherty earned the two pounds, 15 shillings, and ninepence halfpenny as an apprentice builder in 1955.
His mother Margaret, now 104, said she would keep hold of the money and give it back to her son "one day".
But the wages were forgotten and Mr Doherty, from Greenock, was amazed to find the small brown envelope 62 years after taking it home.
He said: "My mother was taken into a care home so I started clearing out her house.
"I was looking through some of the old stuff when I stumbled across the envelope which was an old pay poke of mine - I couldn't believe it."
Apprenticeship
The pensioner said that after leaving St Mary's School at the age of 15, he had "walked straight into" a job as an apprentice builder.
"I finished school at 12pm and headed over the road to the builder's yard at Robert Kirkwood's," he said.
"There was a great crowd of men who worked there at the time."
After a week working there, Mr Doherty got his first pay packet from his boss Jimmy Hill.
His workmates tried to persuade him to spend his wages at the pub, but the teenager instead took them straight home to his mother.
'Good memory'
He said: "At the end of the week my workmates asked if I was going to buy them a pint, but I just took my wages home and gave it all to my mum.
"She was so good to us growing up and I just wanted her to have them.
"Back then, to a 15-year-old, two pounds, 15 shillings, and ninepence was a lot of money.
"Especially when it was your first pay after leaving school - you thought it was a lot of money."
He added: "Back then a pint was only ninepence - so when you look at it like that - it was a lot of money.
"Although looking at the cost of pint these days it isn't worth much now."
The great-grandfather said: "I won't be spending my wages, I just want to keep them. It's a good memory to have."
Mr Doherty grew up in the family home in Ann Street, Greenock, with his mother, father Michael, and sisters Evelyn and Veronica.
He said he learned his work ethic from his father, who worked in the ropeworks, and his mother, a cleaner, who he visits daily.
After his apprenticeship, Mr Doherty trained as a stone mason and spent the rest of his working life in the building trade - mainly as a bricklayer.
In 1955, the average weekly wage was £9.25 and the average house was worth £2,064.