Operator warns polluting bus ban in Glasgow 'could hike costs'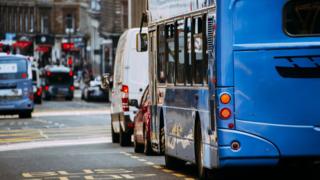 The most polluting buses will be banned from Glasgow city centre if plans to introduce a so-called low emission zone in the city are given the go ahead.
Councillors will put forward a proposal next week to ban all but the cleanest buses by the end of next year.
It follows claims that poor air quality leads to the deaths of about 300 Glaswegians each year.
Operators are warning that the plan could lead to a reduction in the services available and a rise in costs.
Earlier this month the Scottish government released a consultation on how to deal with traffic pollution in Glasgow, Edinburgh, Aberdeen and Dundee.
Glasgow City Council's (GCC) sustainability and carbon reduction committee said the low emission zone plan was the "beginning of a conversation".
It comes as data from Friends of the Earth named Hope Street in Glasgow as among the most polluted streets in Scotland for nitrogen dioxide, known to damage human lung tissue.
Anna Richardson, convenor of the committee said: "We're looking at the city centre area and we're looking at putting restrictions on buses, and only the cleanest buses will be able to enter the city centre."
She added: "We know that about 300 Glaswegians die prematurely every year as a result of poor air quality and we just want to make the city a more pleasant vibrant liveable place and by cleaning up the air we can certainly work towards that."
'Bus industry'
Ms Richardson said that if councillors backed the plans at a council meeting next week, they could eventually lead to moves to limit all heavily polluting vehicles from the city centre.
She said: "At the moment, the proposals that we're putting forward are purely for buses with the intension of then working closely in partnership with the bus industry to make sure that we get 'buy-in', because I think we do need to work in partnership to make this a success.
"After that we would like to open up the conversation and have really good strong engagement and consultation with everybody around how we can then implement it for other types of vehicle."
Lothian buses in Edinburgh introduced a new fleet of 30 so-called Euro 6 vehicles to cut down on pollution. Euro 6 is the sixth incarnation of the European Union directive to reduce harmful pollutants from vehicle exhausts.
'Maverick approach'
Ralph Roberts, managing director of Glasgow bus operator, McGill's, expressed reservations about the timescale of the plans for Glasgow.
He said: "McGill's operated the first Euro 6 buses in Glasgow in 2014 and we support the introduction of a LEZ in Glasgow.
"I, and other industry experts, have made it clear to GCC that if the timescales are too fast or if only bus is targeted, the outcome will be simple - either less bus services or a need for expensive subsidy to bus companies. Neither of which do bus companies or bus users want."
Mr Roberts added: "This maverick approach, out with the Scottish government's partnership approach, will simply make buses even more scarce and expensive and have little effect on air quality."