Climate change flood risk concerns in Clyde coastal areas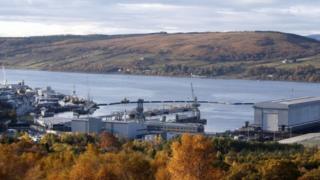 The Faslane nuclear submarine base is among sites identified as being at risk from rising sea levels over the next 50 years.
Scottish National Heritage (SNH) listed more than 100 locations on the Clyde coast including railways and roads where action might be needed.
It has proposed sites for "managed realignment", to allow coastal water to extend beyond current flood defences.
This could allow natural features such as saltmarsh to act as coastal defence.
SNH said UK climate projections suggested sea levels would rise by up to 47cm by 2080.
The report said coastal communities could be affected within Greenock, Gourock, Campbeltown, Lochgilphead, Dunoon, Faslane, Inverkip, Largs, Stevenson, Irvine, Troon, Prestwick, Ayr, Girvan, Rothesay and Kelburn.
These include parts of the Faslane naval base, Prestwick International Airport railway station, and potentially, the airport car park.
It said there were also important wildlife habitats at risk, including the Inner Clyde Special Protection Area (SPA).
The report proposed three potential sites for managed realignment at Erskine South, Newshot Island, and Holy Loch.
These areas, which have not previously exposed to coastal water, would be deliberately flooded.
This would aim to create a coastal front that is better able to cope with rising sea levels.
The procedure has been undertaken at Nigg in the Cromarty Firth.
SNH chairman Mike Cantlay said: "Having this advance notice allows partners to work together to address potential issues and plan ahead for ways to mitigate these risks."
Prof Des Thompson, of SNH, said: "There are risks, for sure, but there are opportunities to allow nature to help us cope with climate change."
He said these types of investigations allowed SNH to work with other government bodies and local councils to ensure the "right development in the right place".