Virgin Media 'discussing' Barrhead broadband box move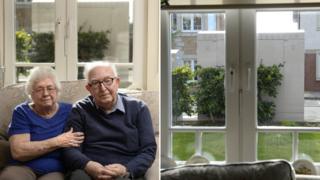 Virgin Media has said it is "looking at the options" around a broadband cabinet which a group of pensioners claims blocks light coming into their homes.
Donald Ferguson, 88, and his wife Rosemary, 82, say the 5ft (1.5m) tall boxes obstructs the view from their ground-floor flat in East Renfrewshire.
Neighbour Betty McGrath, 83, has also complained to the broadband provider.
The cabinets were installed in the street beside the Barrhead flats in January.
Virgin Media previously said that correct procedures were followed before installation.
Communication companies do not need planning permission to install the boxes, however East Renfrewshire Council said it expected they would be placed in "suitable locations" to minimise the impact on residents.
The Fergusons, who have lived in the flat for seven years said they had been "fighting" with Virgin Media since January about the location of the box, which delivers ultrafast broadband to the local area.
A Virgin Media spokeswoman said: "We're looking into it and discussing it with residents.
"We're looking at the options and what we can do to resolve the matter."