Labour wins in two Scottish council by-elections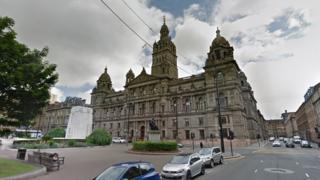 Labour has taken a council seat from the Conservatives and retained a second seat in separate by-elections.
Clare Quigley secured a win in the Fortissat ward in North Lanarkshire for Scottish Labour.
She replaced a Conservative who failed to take up the seat after May's council elections.
In Glasgow's Cardonald ward, Jim Kavanagh retained for Labour the seat which fell vacant after the death of Alistair Watson.
Labour MSP Anas Sarwar called the results "fantastic".
The results by party in Fortissat were:
Labour - 1,420
A Better Union, Unionist Party - 858
SNP - 761
Conservative - 424
Independent - 184
Green - 24
UKIP - 18
The results in Cardonald were:
Labour - 2,614
SNP - 1,972
Conservative - 552
Greens - 147
Lib Dems - 80
SLP - 12
Mr Sarwar said: "Scottish Labour's fightback has continued with these fantastic results.
"Congratulations to Clare Quigley and Jim Kavanagh who will be dedicated champions for their local communities.
"Scottish Labour's vision for a Scotland that works for the many is resonating across the country."