Injured walker airlifted off Goat Fell on Arran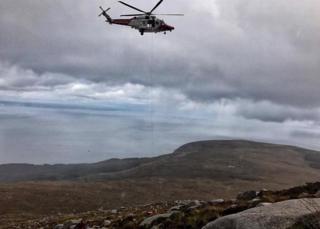 A 64-year-old woman was airlifted to hospital after suffering a leg injury in a fall on the Isle of Arran's highest peak.
The woman is believed to have fallen while walking as part of a group on Goat Fell at about 13:00 on Wednesday.
Arran Mountain Rescue Team was dispatched and carried her to safety on a stretcher.
She was then airlifted off the 2,867ft peak by a coastguard helicopter and flown to hospital.
A spokesman for Arran MRT said: "After assessing her injuries, she was made comfortable, packaged into our stretcher and evacuated to hospital by Rescue 199.
"We wish the casualty a speedy recovery and thank everyone involved for their help."