Musician reunited with missing bass guitar after Facebook appeal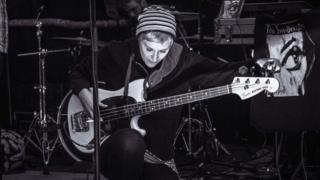 A musician has been reunited with her missing bass guitar after a high profile social media campaign.
Jo D'arc was devastated when her precious Fender Mustang was taken from a train on Sunday evening.
She posted a heartfelt appeal on Facebook for the return of the instrument which she uses in her performances with The Twistettes.
Within days a crowd-funding campaign raised enough for a replacement but her prized guitar was also returned.
Ms D'arc told BBC Scotland online that the instrument was taken by a man who got off the Edinburgh-Glasgow train at Motherwell at about 22:00 on Sunday.
It came as the band she formed with her sister were preparing for a major charity gig in Edinburgh and a tour of South Korea.
"I was devastated", she said. "It's always pretty horrendous to have something stolen.
"The bass is pretty important to me on a personal level but it's really important to the band's sound as well.
"We have got two quite important gigs coming up and I just thought I can't believe this has happened now."
In an appeal she posted online, she said: "If anyone tries to sell you a beautiful cream fender mustang bass then can you please give them a swift punch in the face n rescue my guitar for me?"
It was quickly shared by friends and fans of the bands.
And within hours a crowd-funding campaign set up by fellow musician David Blair had raised enough to replace the missing bass.
Ms D'arc said she was touched by the support she received.
"I was in tears for about three days straight, between losing my guitar and people being so lovely," she added.
"So many people contacted me offering to borrow instruments and help me out. It show there's lots of good guys out there."
Finally, on Tuesday the musician was contacted by a man who claimed to have picked up the bass, believing it to have been accidentally left on the train.
She told her followers on Facebook that she was reunited with the guitar in a "strange yet fruitful" meeting in a Parkhead car park.
"It's a strange end to the story," she said. "I was just thinking, I just wanted it back. It was beautiful that people raised that money but I just wanted my guitar back."
She said the money donated through the crowd-funder will now be refunded.
A spokesman for the British Transport Police said: "I can confirm that we received a report of a stolen bass guitar on board a train between Glasgow Central and Motherwell on Sunday 3 September.
"However, it turns out the item was handed in to lost property, it has since been returned to the owner."