Murder accused 'worried about stitch up'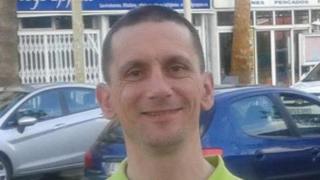 A murder accused was worried he would get "stitched up" for his best friend's death, a court has heard.
William Cameron, 39, of Paisley, is alleged to have killed Daryl Fitch, 43, by repeatedly hitting him on the head and causing him to fall and drown.
Mr Fitch's body was found near Bridge of Weir, Renfrewshire, on 14 July 2015.
At the High Court in Glasgow, Mharie Kissell told how, after her partner's death, she had visited Mr Cameron and he had asked if police had sent her.
Mr Cameron denies murdering Mr Fitch during a camping weekend between 10 and 13 July 2015.
Camp fire chat
Ms Kissell, 36, told prosecutor Richard Goddard that she went to visit Mr Cameron, who was in hospital with a broken leg, on the 21 July 2015.
She said he had been distressed and anxious while answering her questions, and had become tearful and upset whenever she challenged him.
She said: "He asked if the police had sent me and was I wearing a wire - a listening device."
Ms Kissell told the jury she told Mr Cameron that she was not wearing a wire.
She added: "He said his memory was of sitting round the camp fire chatting and laughing with Darryl and then waking up on an embankment being unable to move because of his injuries."
'Be good'
Ms Kissell said that Mr Cameron also said he remembered being hit over the head and that he had no idea what had happened to Mr Fitch.
Earlier in evidence, Ms Kissell described seeing Mr Fitch for the last time on the morning of Friday 10 July 2015 while waving him off and telling him to "be good".
Ms Kissell reported Mr Fitch missing on the Monday evening after he failed to reply to her texts.
Defence QC John Scullion asked Ms Kissell: "When you spoke to William Campbell he said he had been advised by his lawyer not to speak to anyone about the camping trip and he said he thought he was going to get stitched-up, framed, for Darryl Fitch's death," and she replied: "Yes."
Mr Scullion added: "You went to see him at 1.30pm and at 3.30pm you were sitting with police officers saying what he had said to you?"
Ms Kissell said: "Yes."
The trial before judge Lord Mulholland continues.