Scot's concern despite Hurricane Irma evacuation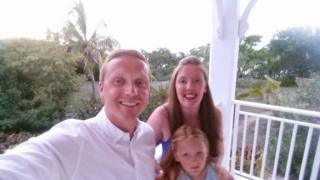 A Scottish family on holiday in the Caribbean are being evacuated to the Cuban mainland as Hurricane Irma approaches.
Martin McCreadie, from Giffnock, East Renfrewshire, was staying on Cayo Coco along with his wife and young daughter.
Earlier he criticised Thomas Cook for delays in evacuating British tourists and said he still had concerns about the area they were being moved to.
The tour operator said the safety of customers was its first priority.
Hurricane Irma has caused widespread destruction across the Caribbean, reducing buildings to rubble and leaving at least 10 people dead.
Irma is a category five hurricane, the highest possible level, and has sustained wind speeds of 285km/h (180mph).
In an update on his Facebook page, Mr McCreadie said: "We are now being evacuated to Varadero/Havana on a 9hr bus journey with a view to returning once the hurricane passes.
"The information we have is that Varadero will be hit also and Canada have evacuated everyone there also. Out of the frying pan into the fire.
"Please get us home thomsascook, from Varadero not back to Cayo Coco."
Earlier Mr McCreadie complained of having to contact Thomas Cook repeatedly since Monday to find out if there were plans for an evacuation.
He said that he and his family were initially told by the tour operator that they were to remain there for the duration of the hurricane.
He also said he was not convinced by assurances that the holiday operator only uses hurricane-proof hotels.
"I'm a structural engineer and when I look about I see large open plan spaces, fully vaulted ceilings, timber beams, timber rafters," he said.
"They'd be subject to massive internal pressure and I'm looking about and I don't see how this building or any of these buildings can be hurricane proof."
Hurricane Irma is currently moving relatively slowly at about 26km/h, and is due to hit the north coast of Cuba on Thursday night before moving on to the southern US coast past the Dominican Republic and the Bahamas.
Thomas Cook insisted the safety of its customers was its first priority and it was in the process of moving holidaymakers to safety in Varadero and Havana on Cuba's main island.
It said that as with all hurricanes, local government had tried and tested procedures that were activated when a hurricane warning was issued.
In a statement on its website, the tour operator said: "The Cuban authorities issued an evacuation for Cayo Coco, Cayo Guillermo and Cayo Santa Maria for the morning of Thursday 7 September.
"Our resort teams and our special assistance team are helping our customers with this evacuation to Varadero and Havana and will remain with them throughout the journey."