Serial offender jailed for attempted robbery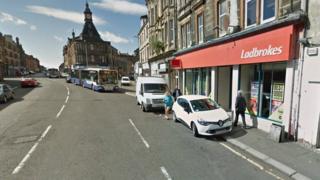 A serial offender who attempted to rob a bookmakers, armed with a metal pipe, has been jailed for 50 months.
Ross McLeod, 37, threatened to "blast" a member of staff during the incident at Ladbrokes in Wellmeadow Street, Paisley, on 7 April.
The High Court in Glasgow heard McLeod, who was not wearing a mask, left empty-handed after staff hit the panic alarm.
McLeod, who admitted the offence, was also ordered to be monitored for three years after his release.
The court was told the six-inch metal pipe had a spring at the back and a fountain pen nib at the top.
McLeod placed the pipe on the counter and demanded money from manager Fiona Moffat.
He then picked up the pipe, pointed it at her chest and threatened her.
The court heard police recognised McLeod in the shop's CCTV footage.
Judge Lady Rae told McLeod: "You have an appalling record for a relatively young man.
"If you carry on like this you will end up spending all your life in prison.
"These types of crime are terrifying for the people involved. But for your early plea of guilty I would have jailed you for five years and six months. "
Defence advocate Tony Lenehan said: "Mr McLeod is assessed as being at maximum risk of re-offending.
"He is 37 with entrenched and life-long offending behind him."
The court was told that McLeod had a string of convictions for assault, theft and robbery