Men stole car while impersonating police officers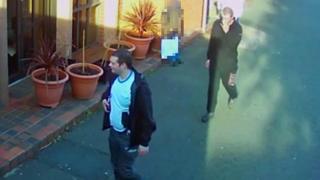 Two men who admitted stealing a £50,000 BMW while impersonating police officers have been jailed.
David Gordon, 20, and Brian Murdoch, 21, used stolen police uniforms to dupe the owner into thinking they were officers helping him trace his phone.
Glasgow Sheriff Court heard that they stole Syed Ahmed's car when he went into his house for paperwork.
The men also admitted other charges, including threatening a couple with a knife before stealing their car.
The thieves contacted 42-year-old Mr Ahmed after he advertised the sale of his silver BMW on Gumtree.
But, he lost his mobile phone in a taxi and arranged to meet the driver at the mosque later that day.
Gordon and Murdoch contacted the phone number to arrange a viewing and on 17 May went to the mosque.
CID officers
Procurator fiscal depute Elizabeth Aitken said: "During the incident, Mr Ahmed observed Gordon had a black covert harness and radio.
"Gordon indicated that they were CID officers and were there in relation to the telephone."
The pair said they would help him recover his phone and would need to use his car.
Gordon got the phone from a taxi driver before driving Mr Ahmed home.
The court heard that when Mr Ahmed went into the house for requested phone paperwork, the car was stolen.
Earlier, on 26 March, Gordon had responded to a Gumtree advert to view a car for sale in Glasgow's east end.
After a short test-drive with the owner of the car, Gordon drove off when 21-year-old Jakob Rudzi went into his house to get paperwork.
Then on 17 April in Glasgow Road, Paisley, Gordon met Douglas Frame, 58, and his wife Lesley, 54, to view a BMW they had advertised on Gumtree.
After a test drive, he agreed to buy the car for £8,500 but claimed he was having "issues" transferring money.
It was agreed a deposit would be paid and the car handed over after full payment, and that the Frames would take Gordon to a cash machine.
Pointed a knife
Ms Aitken said: "While Gordon and the witnesses walked towards the car, Murdoch appeared from the street and pointed a knife towards the witnesses stating 'give me the keys, give me the keys now'."
Both men made off in the car.
Gordon and Murdoch admitted assaulting the couple, presenting a knife at them and robbing them of their car.
Gordon pled guilty to other charges including stealing a car in Blair Street, Glasgow, in March, and driving without insurance and while disqualified. He also admitted the reset of a car and police uniforms on 5 April.
Sheriff Daniel Scullion said: "No disposal other than a significant custodial one is appropriate."
He ordered Gordon - who was on licence at the time - to return to Polmont Young Offenders' Institution for a year before serving two years, seven months for these crimes.
He jailed Murdoch for three years and two months. Both men will be supervised for a year after their release.
Murdoch's lawyer Amy Spencer told the court that the men previously met while serving a sentence in Polmont.
She added: "Both had very similar interests and unfortunately the combination of the pair turned out to be very bad."
Defence lawyer Ian Sievwright, for Gordon, said he was "addicted" to stealing and driving cars.