Clinton Pringle death: 'My son didn't know where to run'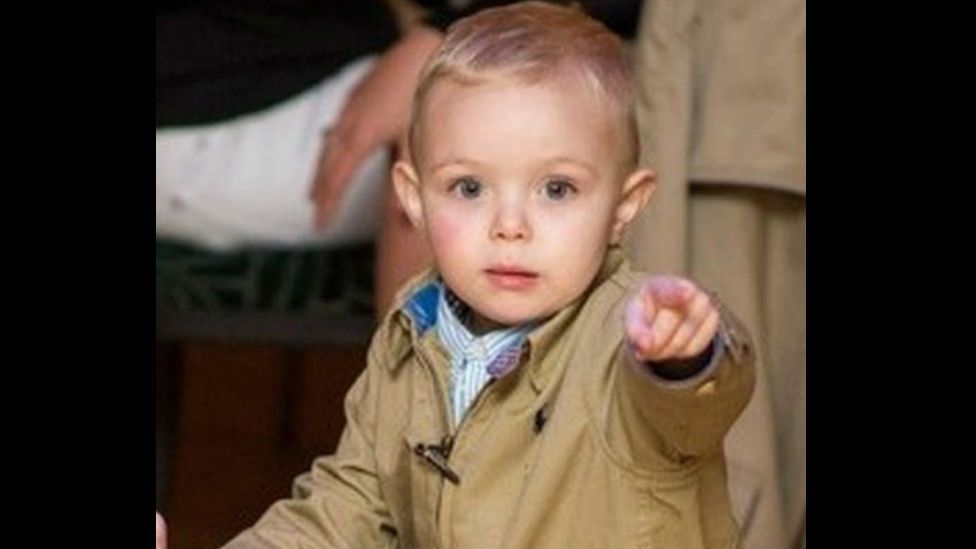 The father of a three-year-old Scottish boy knocked down and killed by a van driver in Jersey has said his son did not know where to run when he saw the vehicle approach.
Clinton Pringle was hit as he walked in a shared space area outside a park while on holiday with his mother.
His father Michael is now campaigning for a moratorium on such spaces.
He told BBC Scotland when he saw where the accident happened he realised Clinton "didn't have a chance".
Clinton, from Moodiesburn in North Lanarkshire, was with his mother Stacey and his aunt and cousins when he was struck by the van in June 2016.
The family had been crossing Tunnel Street on their way to Millennium Town Park in St Helier.
The van driver Rebekah Le Gal, 39, who admitted causing death by careless driving, was given a suspended jail sentence of eight months.
In court it emerged she had sent a text at the wheel shortly before the collision. But her trial found that her phone use had not caused her to knock down Clinton.
Speaking on BBC Radio Scotland's Kaye Adams programme, Mr Pringle said he was abroad visiting friends when the accident happened and got a phone call from his wife.
"Stacey broke the news about the accident. She couldn't really speak, her voice faltered off," he said.
"Then a consultant at the A&E unit in Jersey came on the phone and said: 'There's nothing we can do for your son. He's suffered catastrophic injuries'.
"It was like a bomb had gone off in my back pocket. It was unbelievable."
Mr Pringle flew the next morning to Southampton where Clinton had been transferred for specialist treatment.
"When you see your son lying there, he's broken but you still see hope. But within 10 minutes they told me it was very unlikely he would survive."
The toddler died three days later.
Days after his son's death, Mr Pringle went with police to the scene of the collision.
"I walked the exact route that Stacey and the children had taken and there was nothing that threw up a red flag or suggested any danger to me. My first thought was that he just didn't have a chance.
"Clinton didn't know where to run to when he saw that van approach. There was no pavement to jump back on to, so it was confusing for him.
"Stacey did shout to him to get out of the road but when you have not got a road and a pavement, how does a child differentiate?"
Shared spaces, like the one in Jersey, are an attempt to make drivers take more care by removing traffic signs, pedestrian crossings and even kerbs.
He has now joined forces with local campaigners there to highlight the dangers posed to blind, partially sighted and disabled people, as well as children.
He is part of a delegation taking a petition on the issue to Prime Minister Theresa May in Downing Street.
"I'm quite familiar with the Kirkintilloch area and I spoke to the council leader following Clinton's death and told her I thought it was an accident waiting to happen.
"It's almost like a standoff when you reach that area because people don't know what they are doing."
Campaigners have called for a halt on the use of shared space schemes, pending "clear national guidance that explicitly addresses the needs of disabled people".
Architect and chartered town planner, Riccardo Marini, said theory behind shared spaces is a good one but it must be put in place effectively.
Also speaking on the Kaye Adams programme, he said: "Over the past 60 years we have let cars invade all our spaces.
"The notion behind shared spaces is to reclaim cities and places so that they are safe for people.
"If there is a space that you would be happy for your eight-year-old child or your 80-year-old grandmother to walk by themselves then something good is happening there."
However, Mr Marini said the schemes needed to be better researched and developed by local authorities, with measures put in place to slow vehicles down.
Clinton's father, Mr Pringle, said he believed shared spaces worked in other countries like the Netherlands and Denmark because there the "pedestrian is king".
He said in the UK "the pecking order is the wrong way round".
He added: "When you've got soft items and hard items in the same area and something goes wrong it is always going to be the soft object that loses out, and unfortunately in these shared space areas that's always going to be the pedestrian or the cyclist. It is never going to be the motorist."