Scottish passengers stuck in Romania for a week after plane malfunction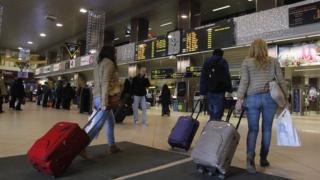 Scores of Scots have been left stranded in Romania for up to a week after the plane they were due to travel on suffered a malfunction.
The Wizz Air flight from Bucharest to Glasgow was due to depart at 19:30 on Monday, but the plane never took off.
Passengers were told there were no alternative Glasgow flights for a week.
The airline said it had apologised to customers and had offered them a full refund or seats on the next available Wizz Air flight.
Bob Jamieson, 70, from Peebles in the Borders, said he had run out of medication to treat his diabetes and been forced to seek emergency supplies.
He told BBC Radio Scotland's John Beattie Programme that he had been put up in an airport hotel for the week.
'I was shaking'
After running out of medication, he said he could feel himself becoming unwell.
"I was shaking, I was shivering, I couldn't walk properly and my vision was blurred," he said.
"I phoned my doctor because I did not know what to do.
"She spoke to the hotel and said it was imperative that within two hours I had to have my insulin injection.
"The hotel was very good and they fixed it within one hour. I got my insulin and medication and I'm OK now."
Mr Jamieson said he was now resting at the hotel and trying to ensure he stabilised his condition.
Passengers had waited at Otopeni Airport on Monday until past midnight before giving up hope.
'Crazy situation'
Some people turned to rival airlines to get home, but flights were reported to cost in the region of £700.
Other travellers accepted flights from Wizz Air to other UK cities, and were paying for transfers to Glasgow out of their own money.
Mr Jamieson said he was booked on the next flight to Glasgow, which is due to depart on Monday.
"I cannot fly to London, Manchester or Birmingham and get on an adjoining flight," he said.
"It's too much for me."
He added: "I'm fortunate in that I'm retired. There's people who have to go to work.
"It's a crazy situation."
A Wizz Air spokeswoman apologised to affected customers and said the safety of its passengers, crew and aircraft was its "number one priority".
"In line with Wizz policy and typical airline practice, passengers were offered either a full refund, or free rebooking on the next available Wizz Air flight," she said.
"Wizz has also provided hotel accommodation and meal vouchers to those choosing to wait until the next available flight.
"Beyond this, we have advised passengers of their rights under EU law with regard to compensation, and how to apply."