Man jailed over smashed car window murder in Greenock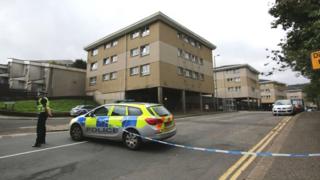 A man who stabbed another man to death because he thought he had smashed a window of his brother's car has been jailed for life.
Stephen Kane was told he will serve at least 16 years in prison for the murder of Lee Monaghan in August last year.
Kane, 21, stabbed Mr Monaghan three times in the legs near his home in Greenock, severing a major artery.
Mr Monaghan, 23, bled to death in the arms of his mother outside their home in the town's Belville Street.
Kane had offered to plead guilty to the lesser offence of culpable homicide but was convicted of murdering Mr Monaghan at an earlier trial.
The High Court in Edinburgh heard that Kane, from Greenock, armed himself with two knives and went looking for his victim after hearing that he had damaged his brother's Skoda car.
He confronted the victim's mother at the flat she shared with her son and showed her the weapons.
She said: "He said he was getting Lee. He said he was looking for him. He said he was going to stab him. He said: 'He's not going to damage my brother's car'."
Moments later, she saw Kane pursuing and attacking her son in the street and rushed outside with Kane's brother Christopher, who lived nearby.
'World shattered'
Kane told his brother: "He's not going to be messing with us again" before he left the crime scene.
Mrs Monaghan put her son's head in her arms and spoke to him. She said: "But I knew he was dead. I could just see it in his eyes. My whole world just shattered, I just knew."
Kane's brother went to the aid of the victim as other neighbours applied pressure to his wound. Kane was later detained by police at Greenock cemetery.
Judge Lord Clark said it was not known who had damaged the car in the incident which had prompted the murder.
He said: "His mother was at the scene trying to phone an ambulance. He died in front of her."
The judge said he took into account Kane's young age and the fact that he had shown remorse, but the crime had been premeditated.
Defence counsel Donald Findlay QC said: "This is a young man who has not had much of a life so far and now has no future to speak of. He has, of course, to accept responsibility for his actions."