Student told disability prevents him gaining journalism award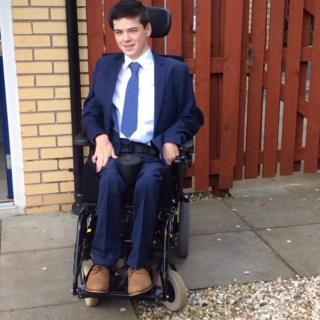 A student has been told his disability means he will not receive a qualification in journalism.
Kyle Gunn, 19, from Johnstone, Renfrewshire, has cerebral palsy and is unable to complete the shorthand element of his course.
Having spent the past year on the NQ Media Studies course at Glasgow Clyde College, Kyle was hoping to progress onto the two-year HND Practical Journalism course.
However during his interview, he was told that without shorthand, he could miss out on gaining the qualification.
"Initially it was upsetting. Now I find it frustrating," said Kyle.
"I have interviewed many footballers and managers, and my disability hasn't stopped me from doing that.
"The Scottish Qualifications Authority (SQA) said it was a mandatory component of the course and the college are telling me that hasn't changed."
Kyle expressed his thanks for the backing he has been given following media coverage of the story. He said: "The response has been incredible. The amount of journalists who have tried to help and people who follow me on Twitter has been fantastic."
Politicians such as Scottish Conservatives leader Ruth Davidson and Tory MSP Maurice Golden tweeted their support, while Nicola Sturgeon agreed to look into Kyle's case.
An SQA spokesman said: "SQA is responsible for developing qualifications and assessments that meet the needs and requirements of sector skills councils across the country, in this instance the National Council for the Training of Journalists (NCTJ).
"The NCTJ is responsible for setting the training standards for journalists in the UK. Following extensive consultation with the industry, the NCTJ has confirmed that shorthand is a vital skill which is demanded by employers.
"As part of the Equality Act, we allow reasonable adjustments to our qualifications for disabled candidates. However, we are unable to adjust the competency standard stipulated by the industry itself, in this case the NCTJ."
The Scottish government confirmed it had contacted the SQA regarding the case.
A spokesman said: "Glasgow Clyde College is supporting Mr Gunn in his studies and in pursuing a career in journalism.
"We have asked SQA to work with the college and seek further clarification on Mr Gunn's case to ensure all options are being fully explored.
"The Scottish government is committed to building a fairer Scotland, in which everyone is empowered and has access to equal opportunities. We expect all public and other bodies to support those ambitions."