Drilling rig worth £250,000 destroyed in fire at Dumbarton quarry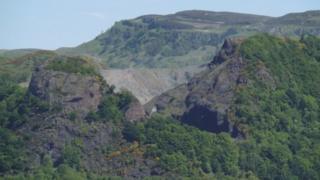 A drilling rig worth £250,000 has been destroyed in a deliberate fire.
The piece of machinery was found alight at the back of Dumbuck Quarry in Dumbarton, West Dunbartonshire, at about 17:55 on Sunday.
The blaze is being treated as wilful fire-raising following a joint investigation by police and the fire service.
Police have urged anyone with information about the incident to come forward.
Det Sgt Gerald Shovlin said: "A very expensive piece of machinery, worth more than £250,000, has been destroyed as a result of this reckless act and it is vital that we trace whoever is responsible.
"There are several hill tracks that look down over the quarry and I would appeal to anyone who may have been walking in the area on Sunday evening to please get in touch."