Inquiry launched after teenager dies and two others fall ill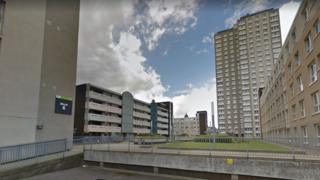 A police investigation is under way after a 14-year-old girl died and two teenagers were taken to hospital after falling ill.
The young girl died at Dundasvale Court in the Cowcaddens area of Glasgow.
Officers are investigating the cause of her death, which is being treated as "unexplained".
Police said a boy and a girl, both aged 15, also fell ill and they are being treated at the Queen Elizabeth University Hospital.
It is understood that drugs are one of the lines of inquiry.
A police spokeswoman said they received a report of the girl's death at 00:45 on Sunday.
She added: "A police investigation is ongoing into the cause of the death and illnesses and inquiries are continuing."