Police revisit scene in missing man probe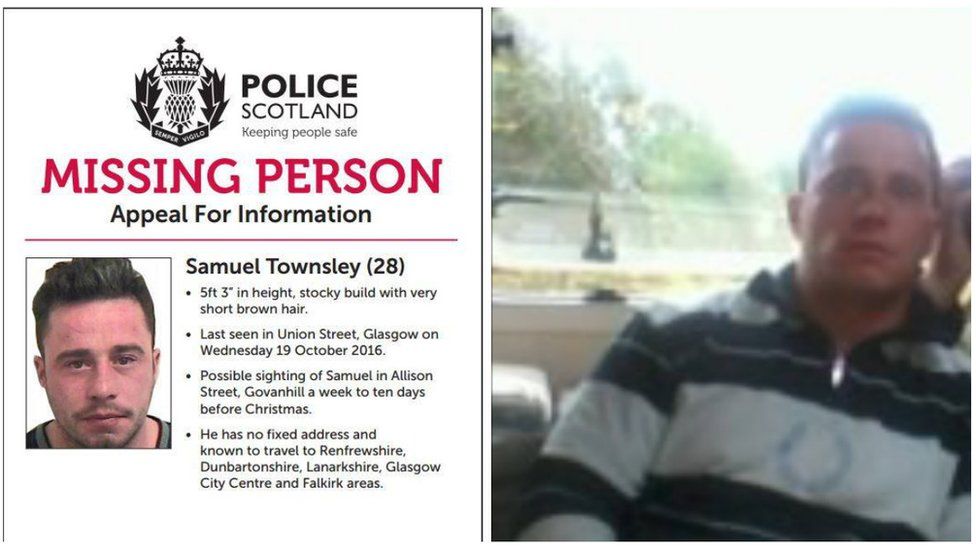 Officers investigating the disappearance of a Glasgow man have returned to the area where he was last seen six months ago.
Samuel Townsley, 28, was spotted in Union Street in Glasgow at about 09:30 on Wednesday 19 October 2016.
Police spent time at the city centre street speaking to the public in an attempt to jog someone's memory.
He is described as being about 5ft 3in tall, with a stocky build, short brown hair and scars on his forehead.
His sister, Ann Margaret Allan told BBC reporter Suzanne Allan that his family were "devastated" and "every day was a struggle".
"He's really fun to be around," she said.
"Everyone who talks to him, his personality really shines through.
"Unfortunately in recent times he has been a very sad and vulnerable person.
"We know his frame of mind when he went missing wasn't the Sammy we know."
Mr Townsley does not have a fixed address, nor a mobile phone, and is known to travel around a lot.
Ch Insp Brian Shaw said despite extensive inquiries, there had been no new confirmed sightings of Mr Townsley.
He said: "We remain hopeful that we will be able to trace him safe and well, and we would like to take this opportunity to ask people to study his image - have you seen Samuel recently? Do you know where he is?
"If Samuel himself is reading this, please contact police or one of your family to let us know you are safe."
Ms Allan said: "Samuel if you are out there and frightened to come home please just call and let us know that you are OK. We love and miss you very much."
Mr Townsley is known to visit Renfrewshire, Dunbartonshire, Lanarkshire, Glasgow city centre and the Grangemouth and Falkirk area.