Philip Morrison cleared of Derek Sheerin murder after DNA query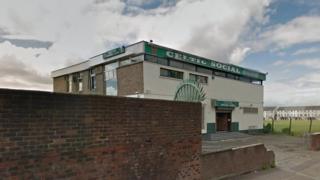 A man charged over a death in Glasgow 22 years ago has been cleared after the Crown withdrew the charge of murder.
Philip Morrison, 40, had denied killing 22-year-old Derek Sheerin on 25 September 1994 at waste ground near the Celtic Social Club on London Road.
The move came after the High Court in Glasgow heard from forensic scientist Dr Nighean Stevenson about a belt thought to be the murder weapon.
She said a bag holding it was open when it was given to scientists in 1994.
Defence counsel Derek Ogg QC asked Dr Stevenson if, as a professional and expert witness, this raised alarm bells.
"It does," she said.
She added that an item would not be accepted for analysis of trace DNA today if it was inappropriately packaged.
Unknown man
Her evidence also indicated DNA from an unknown man was under the fingernails of Mr Sheerin's right hand, the skin of his left hand, his face, on the front and back of his jacket, on a bloodstain on the front of his jacket and on the inside of his T-shirt.
Mr Ogg asked: "The DNA of this unknown male is all over the body?" Dr Stevenson replied: "Yes."
The DNA of this unidentified man has not been found on the national database.
Mr Morrison's DNA had been found on the belt which was round Mr Sheerin's neck. But the court was told this could have occurred through secondary transfer, as the two men were staying in the same house and sharing clothes.
Prosecutor Iain McSporran QC said the DNA was a crucial part of the Crown case. Given the nature of the evidence presented in court, and the fact the open bag could have caused contamination, the charge against Mr Morrison was withdrawn.
Lady Rae told Mr Morrison: "I find you not guilty. You are free to go."