Metal detectors used by NHS Lanarkshire to cut X-ray use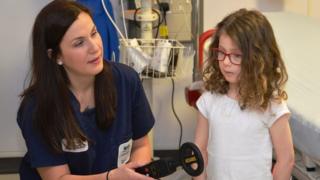 Hand-held metal detectors are being used as a safer alternative to X-rays for children who have swallowed coins or other metal objects.
After a successful pilot at Monklands Hospital, NHS Lanarkshire could roll out the idea to all A&E departments.
Instead of one or more X-rays - and as a result exposing children to radiation - a metal detector is run over them.
Dr Nicola Moultrie ran the project Hunting for Swallowed Treasure as part of her studies to become a consultant.
She said: "We just run the detector over them and, if it bleeps and the light flashes, we know they have swallowed something metallic.
"Depending where it is in their body, some patients can go home without the need for radiological imaging."
Consultant Dr Fiona Hunter, who oversaw Dr Moultrie's project, said as well as being safer, the process was also cheaper.
"There is the added bonus of the savings made from doing fewer X-rays, which are around £55 each," she said.
"The detector cost less than £400 so it has quickly paid for itself.
"All the emergency department team are now trained to use the detector when it's appropriate."
The initiative is to be introduced at NHS Lanarkshire's two other emergency departments - Hairmyres Hospital, in East Kilbride, and Wishaw General Hospital.