Burrell refurbishment cash approved by council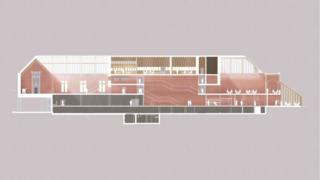 A further £27m for the refurbishment of the Burrell Collection has been approved by Glasgow City Council.
The museum closed last October to allow work to upgrade the building and provide more display space.
About half of the project's £66m cost is being funded by the council.
In April 2015, the council provided £5.7m to kick-start the building's revamp, which houses treasures donated to the city by collector Sir William Burrell in 1944.
The Burrell collection consists of more than 8,000 artefacts but fewer than a fifth of them have been on show at any one time.
When it re-opens to visitors in 2020, the basement of the building will become part of the exhibition space, so that 90% of the objects can be viewed by the public.
The Heritage Lottery Fund has given £15m to the project and the UK government has also contributed £5m.
It is hoped a fundraising campaign will raise the rest.
Cllr Archie Graham said: "Sir William's great legacy has been described as the greatest gift a city has ever received and we have a moral duty to ensure it is housed in the finest of buildings."