Slovak arrests in Scots human trafficking probe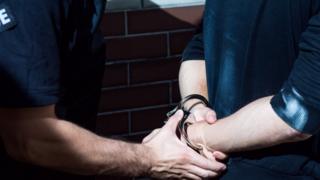 Four men have been arrested in Slovakia as part of an investigation into human trafficking, which also saw the arrest of five people in Glasgow last week.
The operation, involving officers from Police Scotland, Slovakian Police and Europol, has so far uncovered 16 potential victims.
Three of the victims were found after searches of properties in the Govanhill area of Glasgow on 9 February.
The men, aged 40, 30, 26 and 23 have appeared at court in Slovakia.
Det Insp Stevie McMillan said: "This forms part of what is still very much a live and ongoing inquiry and we will continue to work with other law enforcement agencies, both in the UK and across Europe, to ensure anyone else who has been involved in this crime will be brought to justice.
"This is a significant development to ensure the individuals involved in this crime group cannot inflict the same misery and suffering upon other vulnerable victims."
The five people arrested in Scotland have all been charged under the Asylum and Immigration Act with arranging for people to come to the UK with the intention of exploiting them.
Vojtech Gombar, 58, Anil Wagle, 35, Jana Sandorova, 25, Sylvia Racova, 40, and Adam Rastislav, 28, all appeared in private at Glasgow Sheriff Court on Monday.
Each made no plea or declaration and were all remanded in custody.