Knife robber in Guy Fawkes mask jailed over Glasgow raid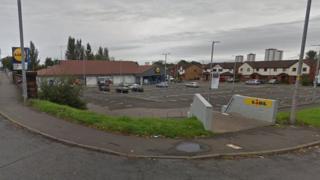 A man who wore a Guy Fawkes mask while robbing a Glasgow shop at knifepoint has been jailed for 40 months.
Thomas McArthur, 28, from Yoker, admitted robbing the Lidl store in Mellerstain Drive on 5 November 2016 and making off with £260.
The High Court in Glasgow heard how assistant manager Haroon Muzammal had thrown dog food tins after McArthur had followed him brandishing a knife.
McArthur was caught after police examined CCTV footage.
The court heard how McArthur had entered the shop wearing a mask and Mr Muzammal had asked him to take it off.
Prosecutor Keith O'Mahony said: "The accused then produced a lockback knife from his jacket pocket and pointed it at Mr Muzammal's face."
He said Mr Muzammal opened the till and threw £260 of £20 notes on to the floor.
Dog food tins
McArthur then began to follow Mr Muzammal down an aisle still holding the knife.
Mr O'Mahony said: "In an attempt to discourage the accused, Mr Muzammal and cashier Charlene McPherson lifted cans of dog food and threw them at him.
"A number of these cans hit him on the legs and body."
McArthur left the store by the back door and the police were called.
Judge Lord Burns said: "Assault and robbery in premises such as this should be treated seriously.
"These premises deserve the protection of the law from people who take knives."