Queen Street trains resume after trespass incident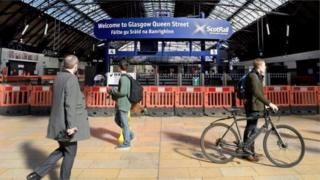 British Transport Police said one man was taken to "a place of safety" after officers searched a tunnel close to Glasgow Queen Street station.
All services were halted during the evening rush hour after reports that three people were in the tunnel.
The alert started at about 17:00 and services resumed one hour later.
A ScotRail spokesman said: "We have carried out our check of the tunnel at Queen Street for trespassers and are now able to operate our trains."
A spokeswoman for British Transport Police added: "Officers were called following reports of three people in a tunnel close to the line of Glasgow Queen Street station.
"The call came into police shortly after 5pm.
"Officers carried out a track search and found one man, who has been taken to a place of safety. Inquiries continue."