Boy, 16, stabbed after disturbance at party in Glasgow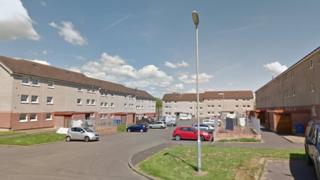 A 16-year-old boy was stabbed after a disturbance at a party in Glasgow spilled out on to the street.
The incident, which involved about 10 people, happened in Mossvale Way, Craigend, at about 11:50 on Saturday.
The victim was taken to Glasgow Royal Infirmary for treatment. His condition is not yet known.
Police are trying to identify those involved and are appealing to local residents to contact them with any information.
Det Juan Carlos Arias De Leon said those involved had been attending a party at a flat in the street.
"At this stage, we don't know why the disturbance broke out," he said.
"However, a young man has been seriously injured and it's imperative we find whoever is responsible.
"Local people would have heard and seen this disturbance which took place around lunchtime on Saturday.
"This area is heavily populated and I am appealing to anyone who has any information or knowledge regarding the incident to get in touch with us."