Plans for Kintyre spaceport discussed at Westminster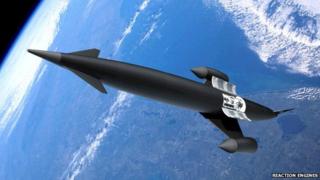 Plans for the UK's first spaceport on the Kintyre peninsula have been unveiled at Westminster.
The area's MP Brendan O'Hara is hosted a reception detailing plans for the former Nato base at Machrihanish to be the centre of space tourism in the UK.
Machrihanish is among five sites across Britain - three of which are in Scotland - hoping to be a spaceport.
The UK government has previously said it wanted to establish a spaceport by the end of 2018.
It launched a consultation in 2014 and two years ago it drew up a shortlist of potential sites.
These also included Prestwick in South Ayrshire, Stornoway in the Western Isles, Newquay airport in Cornwall and Llanbedr airport in the Snowdonia National Park.
In May last year, the government included plans for spaceport licensing in its Queen's Speech.
It also opened up the competition in favour of an airport-style licensing system, meaning any suitable location could become a spaceport.
The Department for Transport said this would help create "viable business models at a range of locations".
This meant that Prestwick and Campbeltown are both vying to attract investment to prove they are "best-placed" to become the UK's first operational spaceport.
The Machrihanish plan is being put together by DiscoverSpace UK, which has signed a memorandum of understanding will tech firms QinetiQ and TelespazoVEGA.
DiscoverSpace UK's managing director, Tom Millar, told BBC Scotland that vertical take-off was "not on the cards" so it was looking into the options for horizontal launches.
He said it would look to develop its plans over the next six months.
Machrihanish has a very long runway and is not close to large settlements, which meets the original government criteria.
Mr Millar also said that the airspace above the runway had very few commercial flights, taking away the concern over interference with passenger aircraft.
The project is also looking at connecting to a restricted airspace corridor that runs from the Ministry of Defence rocket range at Benbecula.
According to Mr Millar, getting small satellites into space would be a viable revenue stream.
He said the logistics of space tourism "do not stack up at this point".
The Machrihanish base, near Campbeltown, has twice been approved for space flight and was a certified emergency landing site in Europe ahead of a launch of the NASA Space Shuttle in 1981.
Mr Millar said the local community was behind the bid and the potential economic benefits it could bring.
He added: "Our site offers enormous scope with a runway of more than 3,000 metres and large areas of land available for development, allied to a positive and supportive planning framework put in place by Argyll and Bute Council.
"Our safety case is very strong as the site is in a depopulated area and offers the ability to launch directly over the sea."
Brendan O'Hara, the SNP MP for Argyll and Bute, said basing the spaceport in Kintyre was a "no-brainer".
He added: "A spaceport would bring important economic benefits to Argyll and Bute and it is a hugely exciting prospect for Scotland to be at the forefront of space travel in the UK. The sky is not the limit."