Glasgow crash couple buried in Saudi city of Medina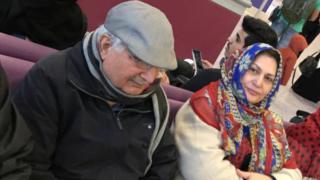 The funeral has been held for a Glasgow couple who died in a minibus crash on the motorway between Mecca and Medina in Saudi Arabia.
Mohammad and Talat Aslam had been on a pilgrimage at the time of the crash and were buried in the city of Medina.
Four members of a family from Manchester who were killed in the accident were also buried.
The Aslams have five adult children, four of whom travelled to Medina for the funeral.
Family friend Salma Raja said prayers had been held at the Aslam's house in the Newlands area of Glasgow.
She said it had been a difficult time for daughter Saba, who is pregnant and so did not travel to Medina.
Mrs Raja said: "Medina is a very holy place - the Prophet is buried there.
"It has been a tragic accident, and yet we think Mrs Aslam is very fortunate to be buried there.
"She had said, 'Bury me wherever I die' and so what a lovely place for her to die."
Mrs Aslam was described as a lively, exuberant person.
Her husband was an intellectual and a good businessman, according to Mrs Raja.