National Theatre of Scotland headquarters opens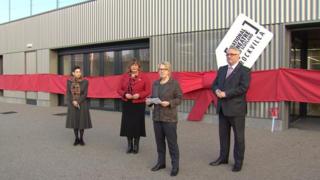 The National Theatre of Scotland has opened its new headquarters.
The new base, beside the Forth and Clyde Canal at Spiers Wharf in Glasgow, has replaced rented facilities.
Since the theatre company was set up in 2006 it has created hundreds of productions, including the award-winning Black Watch.
The new headquarters will have no performance space as the organisation was founded as a theatre company without a theatre building.
The new look of the canal-side building has been designed by Hoskins Architects.
Dame Seona Reid, chairwoman of the National Theatre of Scotland, said: "We're ten years old and in the last ten years we've been operating out of four different venues for administration, for technical, for rehearsal.
"It's meant the company hasn't been able to come together and is not necessarily close to where the creative process of rehearsal is taking place.
"From the company's point of view it will bring us all together. It will make us more efficient, more collegiate and collaborative.
"But as important as that, it's as we see it, a kind of engine room, not just for us but for theatre makers in Scotland."
Culture Secretary Fiona Hyslop officially opened the Rockvilla building, along with Glasgow City Council leader Frank McAveety.
Ms Hyslop said: "The productions that are created here will then go right across Scotland and will be performed in theatres and spaces from the smallest parts of Scotland but also into our cities.
"The National Theatre of Scotland should not be constrained by any city, by any building, by any stage, but the creativity that can be forged here in this engine room for theatre can be enjoyed by people across Scotland, but also internationally."
Mr McAveety added: "It's in a fantastic part of Glasgow which is in the emerging cultural quarter of the city, so it's great for Glasgow and it's great for the National Theatre of Scotland."