Saudi funeral for Glasgow couple killed in crash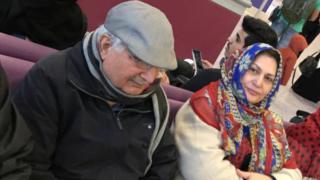 The funeral is to be held later for a Glasgow couple who died in a minibus crash in Saudi Arabia.
Mohammad and Talat Aslam had been on a pilgrimage at the time of the crash and are to be buried in the city of Medina.
Four members of a family from Manchester were also killed in the accident, on the motorway between Mecca and Medina.
The Aslams have five adult children. Some of them have travelled to Medina for the funeral.
Family friend Salma Raja said Mrs Aslam had been a lively, exuberant person.
Speaking ahead of the funeral, she said: "She used to solve everyone's problems. Anyone who came to her, she never said no.
"She was such a lovely person, I can't tell you, she was very, very good. She was never sad.
She added: "Mr Aslam was great as well. He was a serious kind of a person.
"Talat was more bubbly and outgoing. He was moren you could say intellectual, very, very intelligent.
"And he was a very good businessman as well."