Inspection finds Crosshouse Hospital 'under pressure'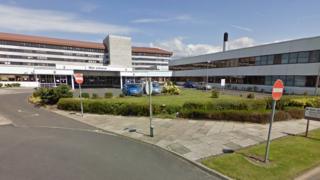 Frail patients were left on ambulance trolleys while waiting to be admitted to a hospital under "extreme pressure", according to inspectors.
Healthcare Improvement Scotland (HIS) said more needed to be done to address "patient flow" and capacity at Crosshouse Hospital in Kilmarnock.
Inspectors also saw relatives' rooms being used as additional patient areas.
Good practice was noted including "visible staff" and positive patient feedback about the standard of care.
HIS urged NHS Ayrshire and Arran to do more to deal with "pressures within the system" as this could impact on "staff ability to maintain patient dignity and respect and to deliver safe, high-quality care".
'Dignity issues'
During the unannounced visit last October, inspectors said they saw two frail patients, one of whom had dementia, on ambulance trolleys in the reception area waiting to be admitted.
"This area was cold and the patients had to be provided with blankets by the ambulance crews," they said.
The report said another patient was seen on a trolley next to the nursing station as there were no cubicles available within the department.
Inspectors said using relatives' rooms as additional patient areas raised "safety, and dignity and respect issues".
HIS said: "Throughout the inspection, it became clear that the hospital was under extreme pressure from the number of patients and that this had a direct effect on all aspects of care that we observed.
"We observed aspects of patient care that we believe had an impact on patients' dignity and respect and had the potential to impact on patient safety.
"We were told that staff are frustrated at not being able to deliver the care that they would like due to capacity and flow issues within the hospital."
Improvement work
Claire Sweeney, interim director at HIS, said: "While we do not underestimate the significant operational issues affecting the hospital, NHS Ayrshire and Arran has a duty to ensure that the care provided to patients under its care is appropriate."
NHS Ayrshire & Arran nurse director Prof Hazel Borland said the organisation was "committed to the provision of high standards" to ensure patients received safe and dignified care.
"Many areas highlighted by the visiting team were part of our ongoing improvement work and this has been reflected in our action plan," she said.
"We are pleased that the inspection team observed and have reflected the positive feedback received from patients and carers about the standard of care, respect, dignity and compassion they were experiencing during their time in University Hospital Crosshouse."