Jobs secured at medical equipment plants in Ayrshire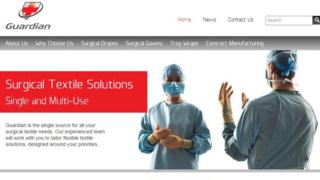 About 100 jobs have been secured at an Ayrshire factory after a medical firm reviewed its plans to close the site.
Guardian Surgical, formerly BDF Healthcare, makes products for surgical theatres and employs about 120 people at sites in Girvan and Patna.
In March, parent group Berendsen PLC had announced plans to close one site and move more production work to China.
A spokesman said a viable way forward had now been identified, with financial support from South Ayrshire Council.
The firm also worked closely with Scottish Enterprise and the Scottish Manufacturing Advisory Service to secure the future of the factory.
Stephen Burt, Guardian Surgical MD, said: "As with many companies operating in a competitive marketplace, we face increasing pressure to improve efficiency and reduce our cost base.
"However, we have now been able to develop a business model that reinforces our commitment to the future of UK manufacturing, retaining the expertise and R&D capabilities of our highly skilled staff, while continuing to support the local economy."
'Warmly welcomed'
Councillor Bill Grant said: "Our targeted investment was designed to support local jobs and to give this factory every chance of thriving in the long-term."
Scottish government business minister Paul Wheelhouse said it was great news for Girvan and the local economy.
"I know that Scottish Enterprise and the Scottish Manufacturing Advisory Service have been working closely with Guardian Surgical since the consultation began," he said.
"I am very pleased that they were able to reach such a positive conclusion and I am sure this will be warmly welcomed too by the workforce and stakeholders in Ayrshire."
Guardian Surgical serves more than 300 NHS and private sector hospitals, as well as various contract manufacturers and brands in the UK and overseas.