Glasgow's Emirates Arena evacuated over chemical smell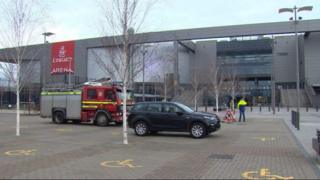 Glasgow's Emirates Arena has been evacuated by firefighters who have been called to several reports of a chemical smell in the city's Dalmarnock area.
The Scottish Fire and Rescue Service said the sports venue was cleared as a precautionary measure at 11:25.
Firefighters also evacuated and ventilated commercial premises on London Road at about 10:52.
Crews earlier attended Swanston Street in Dalmarnock on Wednesday evening. The cause of the problem is not yet known.