Man jailed for abusing Celtic fan and police in Glasgow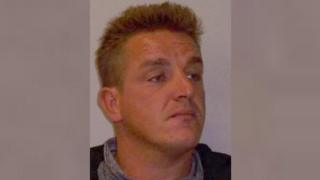 A man has been jailed for six months for abusing a Celtic fan and police officers before the Aberdeen v Celtic League Cup Final match at Hampden Park.
Kevin Goffin, 35, of Aberdeen, targeted the Celtic fan in the Marks and Spencer store in Glasgow Central Station at about 14:00 on 27 November last year.
When British Transport Police (BTP) officers intervened he directed violent and homophobic abuse towards them.
Goffin was also handed a three-year football banning order.
Speaking after Goffin was sentenced at Glasgow Sheriff Court, BTP's Sgt Michael McEwan, said: "Goffin was travelling towards the Aberdeen v Celtic match. Instead he spent his afternoon in police custody because of his irresponsible and violent behaviour.
"He will now spend the next six months behind bars and it will be three years before he can attend another football match.
"Plenty of time for him to reflect on his actions. I hope his days of hooliganism are well and truly behind him."