Man in court over Glasgow aircraft incident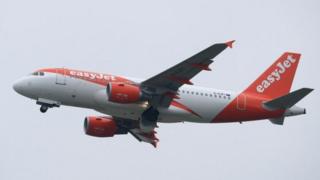 A man has appeared in court charged with forcing a flight to return to Glasgow Airport because of his behaviour.
James McMahon, 37, from Cambuslang was on board the EasyJet flight to Alicante on Hogmanay.
At Paisley Sheriff Court he denied the two charges against him and was released on bail.
Mr McMahon had spent two nights in police custody following his arrest on 31 December.
He denies being drunk on the flight, in beach of Sections 60 and 61 of the Civil Aviation Act 1982 and Articles 242(1) and 265(7) of The Air Navigation Order 2016.
He also denies "interfering with the performance by a member of the crew of the aircraft" by repeatedly shouting and swearing and refusing "to desist or moderate [his] behaviour... whereby said aircraft required to return to Glasgow airport".
Mr McMahon is expected to go on trial in April.