Historic bagpipes returned to homeland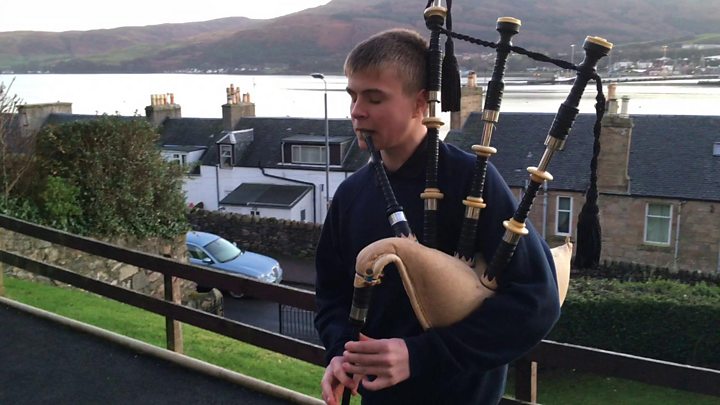 A Campbeltown teenager has been gifted a vintage set of bagpipes with an extraordinary history.
The pipes were played at the Queen's Coronation in 1953 and their story involves a trail across the Atlantic to Canada and back. Fourteen-year-old Calum McKillop finally got the pipes a few days before Christmas after they had undergone an extensive refurbishment.
Good Morning Scotland's David Allison reports from Campbeltown.
---
Just after the end of World War Two, 14-year-old Archie McGeachy was a promising piper. But to really improve he needed a decent set of pipes.
His family didn't have the means, but a local dentist saw the potential and he paid for the top-of-the-range Henderson pipes.
Aged 21, Archie went on to play at the Queen's Coronation in 1953 and became a world champion piper - still using that same set of pipes he'd been gifted as a teenager.
In the mid-sixties he emigrated to North America, eventually ending up near Toronto in Canada.
All through his life across the Atlantic, until his death in November last year, he never stopped playing his pipes - even forming a band in Ontario called Kintyre.
Archie McGeachy's daughter, Karen Sparkes, says his widow Maura and the rest of the family didn't want the precious pipes to go to waste.
"Those were his pride and joy. He loved those bagpipes and he did not want them to sit in a box in the spare room so we reached out to Bob Worrall."
As well as being one of Canada's top pipers, Bob Worrall is well known on this side of the Atlantic as a respected commentator for the BBC's coverage of the World Pipe Band Championships.
Initially he set about trying to find a suitable young piper in Ontario, but that plan soon changed.
"It was an epiphany. I was walking through the house with a cup of coffee and it was staring me straight in the face - that the pipes should not stay here in Ontario, that they should go home to Campbeltown."
The family agreed and the task of finding the right person then fell to Kintyre schools piping instructor Ian McKerral, who enjoyed the Christmas of 1977 at number one in the charts as a member of the pipe band on Paul McCartney's Mull of Kintyre.
He had to choose from more than 80 pupils across seven schools.
"It was quite a hard decision, but Calum was always a front runner because of his commitment to the instrument and also being very keen on solo piping. I knew he's a boy who would really take care of the instrument."
The pipes were presented by Bob Worral in the summer, but have since been undergoing refurbishment. Fourteen-year-old Calum McKillop finally got them permanently a couple of weeks before Christmas.
Calum is now the proud owner of a set of pipes with a fair bit of history, quite a lot of mileage, and perhaps even the burden of a fair amount of responsibility.
"It just makes you think how lucky you are to learn an instrument and then to be given pipes such as them," said Calum.
"Archie did quite a lot of things with the pipes, winning things, and I've got to try my best to replicate what he's done. It's a challenge and it will be hard to reach the heights that he did."
Calum says one day, hopefully a long time into the future, he will want to pass the pipes on to another young piper.
In the meantime, back in Ontario, Archie's daughter Karen Sparkes is confident the pipes are in good hands.
"I just have this really good feeling that Calum's going to do amazing things, both as an individual piper and as a competitive band piper, with those pipes," she said.