Date set for Auchinlee care home closure decision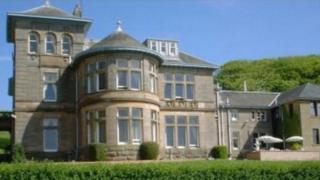 A decision on the future of a care home in Argyll which is facing closure is likely to be made before the end of January.
The Auchinlee home in Campbeltown provides care for up to 20 elderly people with dementia.
Owner Crossreach has said it cannot continue to subsidise the home.
NHS and council officials have agreed to consider sharing costs for three months and will not trigger a closure notice until a decision has been made.
Crossreach, a social care charity linked to the Church of Scotland's Social Care Council, says the home has lost hundreds of thousands of pounds in recent years.
Relatives of some residents have raised concerns that their loved ones will be moved outside the area if it closes.
A meeting between Argyll and Bute Health and Social Care Partnership and Crossreach on Monday agreed that a decision on shared funding would be made before the end of January.
Accommodation options
The required 13-week notice of closure will not be issued until that decision is made.
A joint statement said: "The Partnership and Crossreach, working with the Save Auchinlee Action Group and other community bodies will examine all alternatives for provision including seeking further information on likely demand and on different accommodation options."
The statement added that a lasting solution would have to be found within the next three months.
The money to run the Auchinlee home comes from the Argyll and Bute Health and Social Care Partnership - a shared service between the local council and the NHS.
Although the partnership pays Crossreach at the standard national rate, Crossreach has said this is not enough to cover the cost of running Auchinlee.
The operator said the main reason for the relatively high cost was the difficulty of recruiting staff in a rural area, meaning that some staff have to be brought in from elsewhere.
A so-called "care summit" in early February - involving several bodies - will discuss the problems of running care homes in isolated parts of Scotland.