Digging to start in search for woman last seen in 1999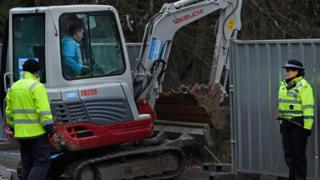 Police investigating the disappearance of a woman from Inverclyde who was last seen in public in 1999 have brought in a digger to search her garden.
Margaret Fleming was reported missing by her carers six weeks ago but the last independent sighting of the 36-year-old was 17 years ago.
Police have been searching her home and garden in Inverkip for several days.
They have now confirmed that a digger will begin excavating the garden on Wednesday morning.
Police officers went to Ms Fleming's house on 28th October about a social work issue.
Her carers - a man in his 70s and a woman in her 50s who were close family friends - said she had left that day. They later reported her missing.
Police have also confirmed that Margaret Fleming's carers assisted with her finances.
A spokesman for Police Scotland said the force had been "encouraged" by the response to its appeal for information about Ms Fleming.
He added: "We're following up lines of inquiry. Officers remain at the house to continue the search and inquiries are ongoing".
Ms Fleming, who is believed to have learning difficulties, lived in a house which belonged to her carers.
She was last seen in publicly on 17 December 1999 at a family gathering.
She is thought to have attended James Watt College in Greenock between 1996 and 1998.
Police said Ms Fleming had few contactable friends or family and checks on education, employment, health and welfare records had shown no trace of her.
Detectives said the carers had told them they believe Ms Fleming had "a private side to her life" and friends they were not aware of.
It is believed Ms Fleming lived with her father in Port Glasgow before he died in October 1995.
She then lived with her grandparents and mother but moved in with carers in 1997.
She is thought to have been estranged from her mother since then.