Man attacked with weapon as he opened door of Coylton home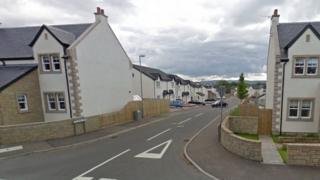 A man was taken to hospital with facial injuries after being attacked with a weapon when he opened the door of his home to an unknown man in a balaclava.
The 55-year-old had answered the door of his home in Finlayson Way, Coylton, at about 14:35 on Sunday when he was assaulted.
Detectives have not revealed what type of weapon was used.
Police believe the attack may be linked to an altercation the victim had with a driver the previous evening.
That incident happened near the Spar store in Coylton at about 18:30.
Police said the victim had been involved in an altercation with the driver of a black Vauxhall Astra. The victim was driving a silver Mercedes and the black Vauxhall Astra had a matt paint finish.
The attacker was 5ft 7in tall, of heavy build, wearing an army green balaclava, a black zipped tracksuit top, faded blue jeans and white trainers. He made off towards Hillhead Road.
The victim was taken to Ayr Hospital for treatment and was later released.
Det Con Bill Stokes, from Ayr CID, said: "One line of inquiry is that these incidents may be linked, however we need anyone with information about either incident to come forward so we can establish whether this is the case.
"We would like to speak to anyone who may have witnessed an altercation involving the two cars on Saturday evening as well as anyone who may have seen a man matching the above description in the area of Finlayson Way and Hillhead Road on Sunday afternoon."