Extra Gourock-Dunoon passenger ferry for winter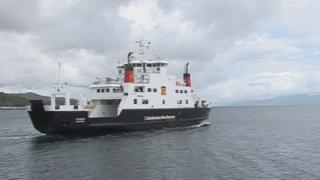 An extra passenger ferry will be used on the Gourock-Dunoon route during the winter period.
Transport Minister Humza Yousaf announced that the MV Coruisk will be used to carry passengers, along with the two small passenger ferries that currently operate.
This will be the fourth consecutive year the MV Coruisk has been used on the route.
It will be used to offer extra resilience in difficult conditions.
Mr Yousaf said: "Redeploying the MV Coruisk on the Gourock-Dunoon route will give passengers extra confidence in the service during the winter period, which traditionally brings more challenges to ferry travel.
"The vessel has proved popular with regular travellers on the route over the past three winters. When available, she will carry passengers on key peak sailings and be kept on standby during other periods, operating when able if both regular vessels are unable to sail.
"Details and dates of the MV Coruisk's deployment are being finalised by Argyll Ferries and will be announced in due course, but I'm confident this announcement will be welcome news for passengers who depend on the service during the winter months."
Argyll Ferries is owned by the state-owned David MacBrayne Group.