Anti-abortion group in censorship claim at Strathclyde University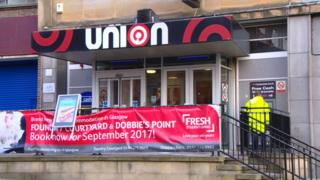 Anti-abortion students claim they are being denied their right to freedom of expression by the students' association at Strathclyde University.
A pro-life group has been refused affiliation to the association, which prevents them booking rooms and accessing funding for conferences.
The student association's president Raj Jeyaraj said it had a "pro-choice" policy, set in place by students.
Campaigners said it reflected a "common theme" in society for censorship.
Pro-life student Jamie McGowan said: "We believe that the right to life is important, but we also believe we should have the right to express this.
"With freedom of expression, if an unreasonable idea is produced in society we can address it, talk about it and challenge it.
"That's not happening here."
'Democratic institution'
Mr Jeyaraj said the student membership decided how the association was run.
"The application was declined because the policy that we have does not allow for such groups on campus."
He said students could hold a referendum to change the policies of the association, and this process had become easier.
"Recently the number of signatures to hold a referendum was reduced from 500 to 200," he said.
"It is a democratic institution, and it has to be so."
Mr McGowan said it would be a referendum with only one side given funding to run a campaign.
"You can't have a democracy and not have an opposition," he said.