Plans for 604 new homes in East Ayrshire Council area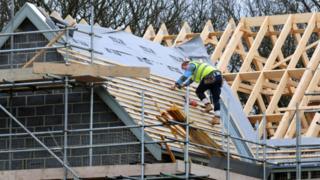 A £131m programme to build 604 new homes and revamp hundreds of others has been unveiled by East Ayrshire Council.
The authority said it would commit about £63m to build the new homes over the next five years.
A further £68m will be spent upgrading existing homes with central heating, modern kitchens and bathrooms, and roof, door and window replacement.
East Ayrshire Council said it wanted to provide "sustainable and quality homes" for its near 13,000 tenants.
Eoghann MacColl, cabinet member for housing and communities at the council, said: "We have already fully achieved the Scottish Housing Quality Standard for all of our stock and are making excellent progress towards meeting the national energy efficiency targets.
"Over the next five years, 600 new homes will be built in East Ayrshire and hundreds more improved, as we embark on this exciting and ambitious programme of refreshing and renewing our housing."
The council said it would work with tenants to offer alternative accommodation while improvements were being made.